Review tablet Samsung Galaxy Tab S3: defibrillator
Not so long ago have been important for anyone interested in the global technology journalism, event: Walt Mossberg announced his retirement after many years of service in the Wall Street Journal, Recode and, in recent years, The Verge. In an article summarizing his 26 years of experience in the industry, in addition to many interesting generalizations (read, highly recommended), it fixes this obvious point – despite the fact that the iPad has become the most important gadget after iPhone for the last 10 years and the tablet market has experienced explosive growth, devices of this type are unable to replace personal computers, and between the frozen absorbing all essential functions of smartphones and laptops and desktops that holds its niche.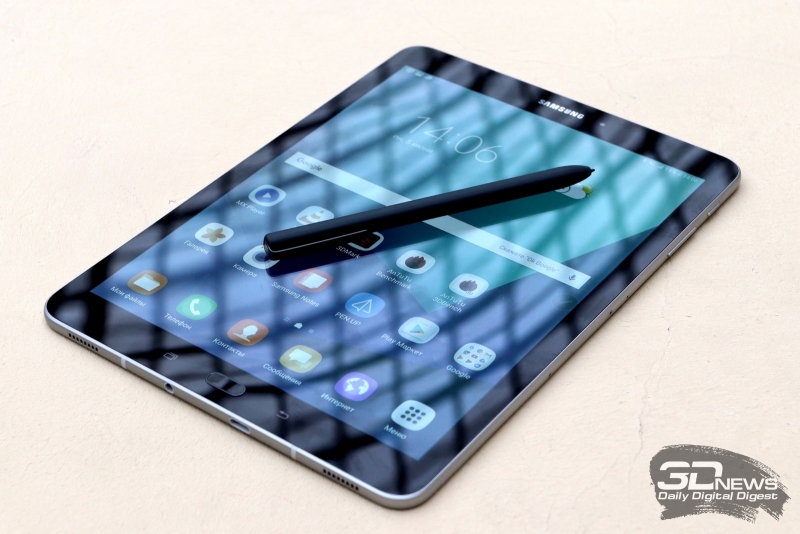 Many companies have already turned their attempts to make "the real killer iPad" or, indeed, ceased to even try to do the usual tablet – bedside gadget did not come in every house, and when the diagonal average smartphone has reached 5.5-5.8 inch, "a multimedia-surf" scenario just curled up. But there is a hope for a laptop replacement — at least partially. Here the only thing that distinguishes a tablet from a laptop is a keyboard rag (bright representatives of Microsoft Surface and the first Huawei Matebook). Apple iPad Pro was presented and touted as a cross between "desktop tablets" and mobile device. Samsung Galaxy Tab S3 marks there – it is a direct competitor of the compact version of "Proshka" with the same display diagonal and resolution, with a connected keyboard-case and, of course, with a stylus. By the way, regarding the last point, the Koreans can smile to say: "We know!"
An important feature Tab S3 platform on the basis of which it is made. Samsung is proud, and deservedly, their own systems-on-chip, equipping their smartphones for the world market. But the tablet came out once for all with Qualcomm Snapdragon 820 on Board – and was the only modern device in such a format, with last year's flagship platform. This decision seems strange given that Exynos 7880 at least not worse. But in any case, you can count on a dispute in performance, at least with the iPad Pro at 9.7.
Specifications
Samsung Galaxy Tab S3
The Apple iPad Pro has a 9.7
Apple iPad Pro
Display
9.7 inch, resolution 2048 × 1536, 264 pixels per inch; AMOLED-matrix
9.7 inch, resolution 2048 × 1536 (Retina Display), 264 dots per inch; IPS-matrix
12.9 inches, a resolution of 2732 × 2048 pixels (Retina Display), 264 dots per inch; IPS-matrix
Processor
Qualcomm Snapdragon 820 MSM8996: dual core Kryo, frequency of 2.15 GHz + two cores Kryo, frequency of 1.6 GHz; process technology 14 nm
Apple A9X: dual core Apple Twister (ARMv8 A32/A64); frequency of 2.16 GHz;
the 16 nm process technology;
coprocessor Apple M9
Apple A9X: dual core Apple Twister (ARMv8 A32/A64); 2.26-GHz;
the 16 nm process technology;
coprocessor Apple M9
Graphics controller
Adreno 530, 624 MHz
PowerVR Series 7XT (12 cores)
PowerVR Series 7XT (12 cores)
RAM
4 GB
2 GB
4 GB
Flash memory
32 GB
32/128/256 GB
32/128/256 GB
Memory card support
Yes
No
No
Connectors
1 × USB Type-C
1 × headset Jack 3.5 mm
1 × Lightning
1 × headset Jack 3.5 mm
1 × Lightning
1 × headset Jack 3.5 mm
SIM card
Nano-SIM (optional)
Nano-SIM (optional)
Nano-SIM (optional)
Cellular
2G: GSM / EDGE 850, 900, 1800, 1900 MHz;
3G: UMTS 850, 900, 1900, 2100 MHz;
4G: LTE Cat. 6 (300 Mbps) band 1, 2, 3, 4, 5, 7, 8, 17, 20, 28, 40
2G: GSM / EDGE 850, 900, 1800, 1900 MHz;
3G: UMTS / HSDPA 850, 1700, 1900, 2100 MHz;
CDMA CDMA/EV-DO 800/1900 MHz;
4G: LTE Cat. 4 (150 Mbps) band 1, 2, 3, 4, 5, 7, 8, 12, 13, 17, 18, 19, 20, 25, 26, 27, 28, 29, 30, 38, 39, 40, 41
2G: GSM / EDGE 850, 900, 1800, 1900 MHz;
3G: UMTS / HSDPA 850, 1700, 1900, 2100 MHz;
CDMA CDMA/EV-DO 800/1900 MHz;
4G: LTE Cat. 4 (150 Mbps) band 1, 2, 3, 4, 5, 7, 8, 13, 17, 18, 19, 20, 25, 26, 28, 29, 38, 39, 40, 41
Wi-Fi
802.11 a/b/g/n/ac, 2.4/5 GHz;
Support MIMO 2 × 2
802.11 a/b/g/n/ac, 2.4/5 GHz;
Support MIMO 2 × 2
802.11 a/b/g/n/ac, 2.4/5 GHz;
Support MIMO 2 × 2
Bluetooth
4.2
4.2
4.2
NFC
There
There
There
Infrared
No
There
There
Navigation
GPS, A-GPS, GLONASS, BeiDou, Galileo
GPS, A-GPS, GLONASS (optional)
GPS, A-GPS, GLONASS (optional)
Sensors
Accelerometer, scanner, fingerprint, gyroscope, geomagnetic sensor, magnetometer (digital compass), light sensor
Light sensor, proximity sensor, accelerometer/gyroscope, magnetometer (digital compass), barometer, fingerprint scanner, sensors TrueTone
Light sensor, proximity sensor, accelerometer/gyroscope, magnetometer (digital compass), barometer, fingerprint scanner
The main camera
13 MP, autofocus, flash, shooting 4K video
iSight: 12 MP, autofocus, flash TrueTone, shooting a Live Photo shooting 4K video
iSight: 8 megapixels, autofocus, no flash
Front camera
5 MP, without autofocus, no flash
5 MP, without autofocus, flash Flash Retina (display)
1.2 MP (1280 ×960), the matrix with the back-illuminated; no autofocus, no flash
Food
Removable battery is 22.2 WH (6000 mAh, 3.7 V)
Non-removable battery of 27.3 W·h (7184 mAh, 3.7 V)
Removable battery 38,8 W·h (10307 mAh, of 3.77 In)
Size
237,3 × 169 × 6 mm
240 x 169,5 × 6.1 mm
305,7 × 220,6 × 6.9 mm
Weight
429 grams (without built-in modem)
434 grams (with internal modem)
437 grams (without built-in modem)
444 grams (with internal modem)
713 grams (without built-in modem)
723 grams (with internal modem)
Protection case
No
No
No
Operating system
Android 7.0 Nougat with a proprietary shell Samsung
iOS 9
iOS 9
Current price
49 990 rubles (Wi-Fi), 59 990 rubles (Wi-Fi + LTE)
From 44 990 rubles (32 GB, Wi-Fi) to 68 990 rubles (256GB, Wi-Fi + LTE)
From 52 990 rubles (32 GB, Wi-Fi) to 82 990 rubles (256GB, Wi-Fi + LTE)
 
 
Appearance, ergonomics and software
For the most part, companies do not invent something new in the development of tablets, adhering to a simple rule: increase the smartphone, slightly change the proportions and voila! In this case, we have a homogenized image of a Samsung smartphone with a larger frame around the screen, lots of speakers and connectors for the keyboard-cover on the left side.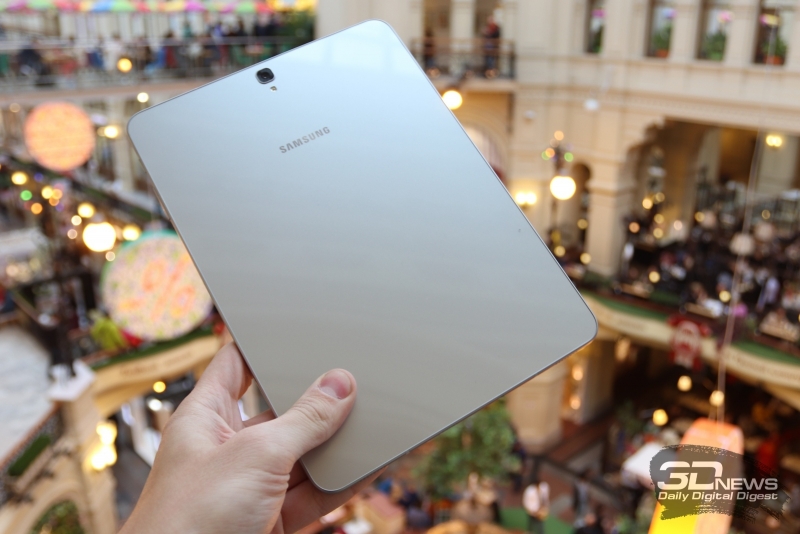 As in the smartphone Galaxy S to the latest generations, in the tablet glass rear backrest – aluminium is only used for facets. While Samsung did not disclose what kind of tempered glass protects the screen and the back is Gorilla Glass 3, 4, 5 or even another brand, but the problems with macrocarpon, characteristic, in particular, the Galaxy S7, here I have not noticed. The rear surface is left clean and smooth even after a test cycle in a few weeks.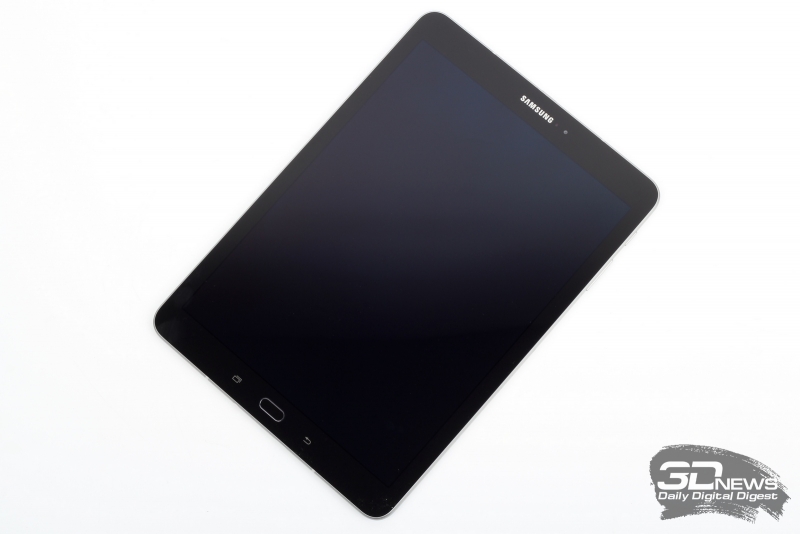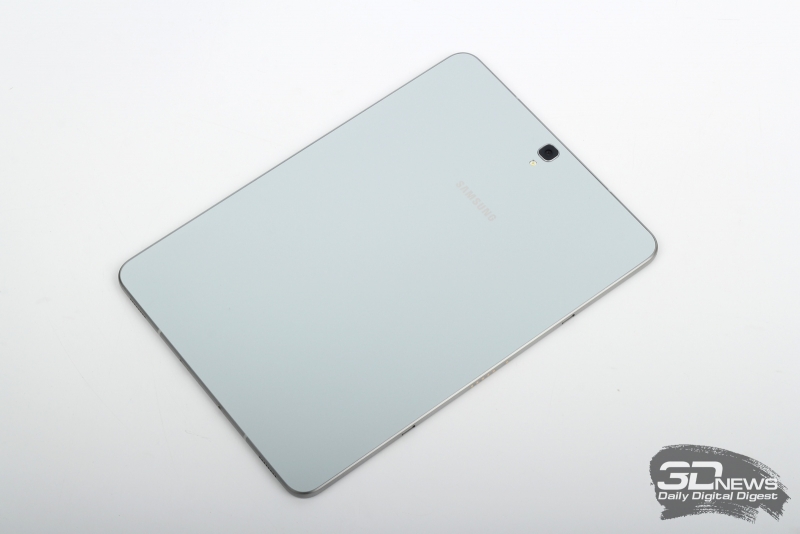 Samsung Galaxy Tab S3 is available in only one color: the front is painted black, face and back is silver. The keyboard case- gray. All very carefully, the gadget is very thin (6 mm, thinner than most smartphones and one-tenth of a millimeter thinner than the iPad Pro has a 9.7 – so!), it is possible, in principle, even to use the term "beautiful" — I'm just not a connoisseur of the genre tablets in industrial design.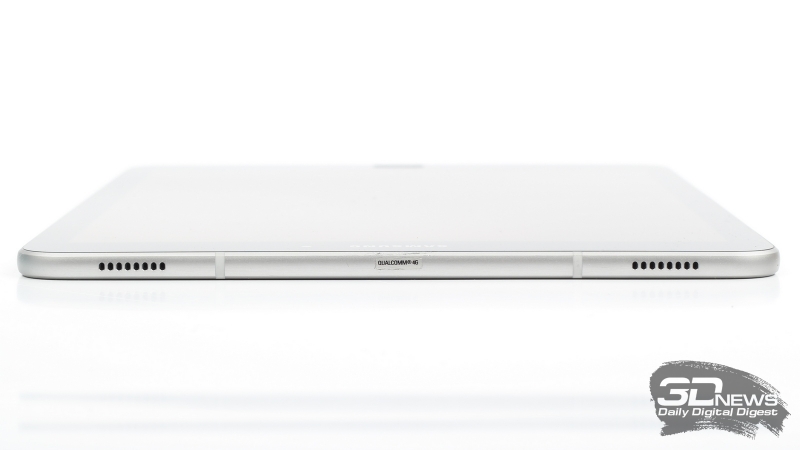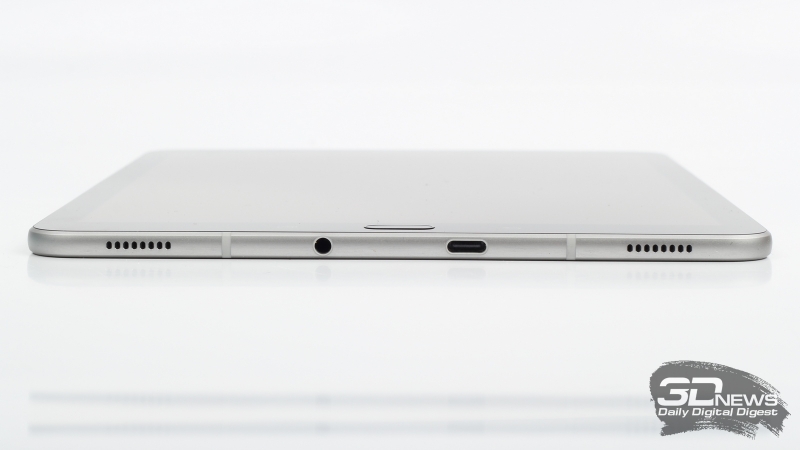 Competition with the iPad Pro, apparently including if you look at the mass Tab S3 – though a few grams, but a win is a must! Korean tablet weighs 434 grams (version with LTE), 9.7 in iPad Pro, the same version is 444 grams. Or rather garish slot for the stylus in the keyboard-case — any, but there is! Yes, Samsung is also not figured out how to place the pen in the body of the tablet without increasing its thickness and prodelyvanija crutches, but somehow! However, the same reduction of mass has a downside – it has managed to achieve including at the expense of less capacious battery: 6000 mA·h against 7184.


In Galaxy Tab S3 uses a proprietary control system with the hardware key "Home", in which the integrated fingerprint scanner. It is physical, fun – to be honest, like the buttons I love so much more than touch on the iPhone 7, the latest HTC or Xiaomi Mi6. On either side of the main keys is the touch navigation item classic for Android.
The fingerprint scanner is quite traditional – uses a capacitive sensor sensitive to the microtrauma to the skin; while the print is in original condition, rasplachivaetsya camera almost instantly.
With the help of prints, how to unlock the phone and go in to your Samsung account and login to your favorite web sites.
Samsung_Galaxy_Tab_S3_ui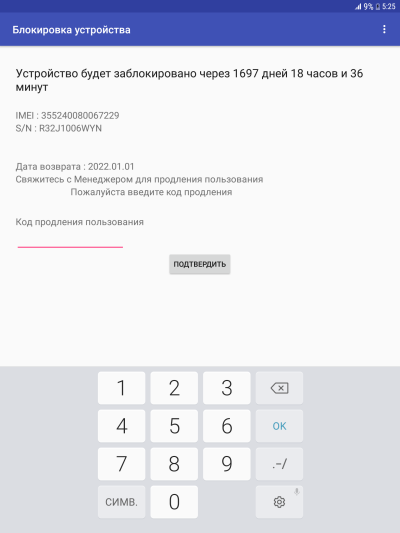 ui_01.png
View all pictures (39)

ui_02.png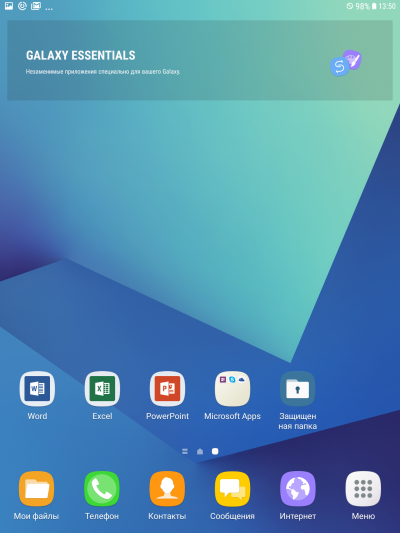 ui_03.png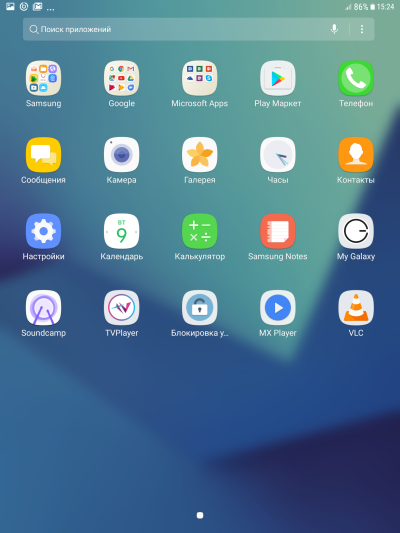 ui_04.png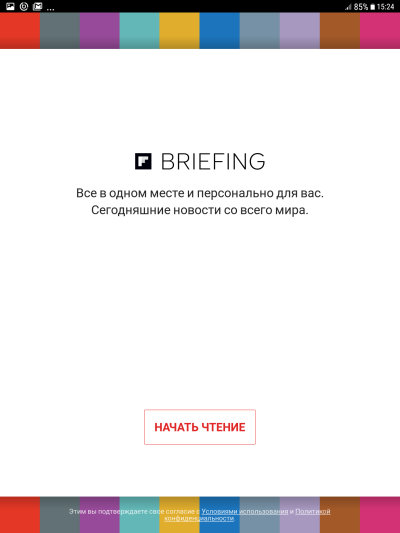 ui_05.png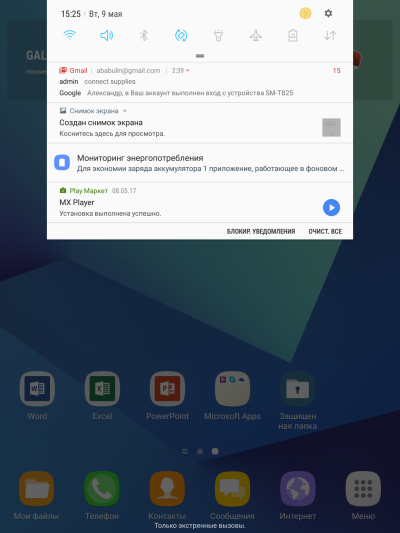 ui_06.png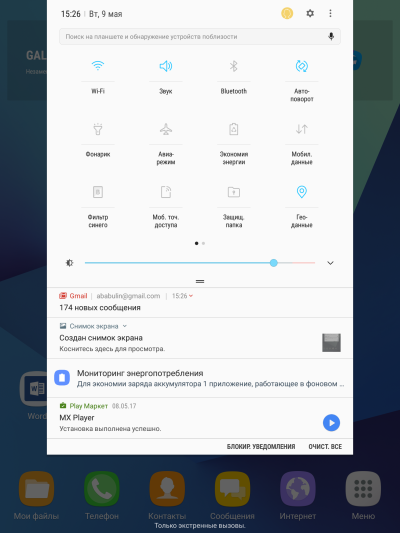 ui_07.png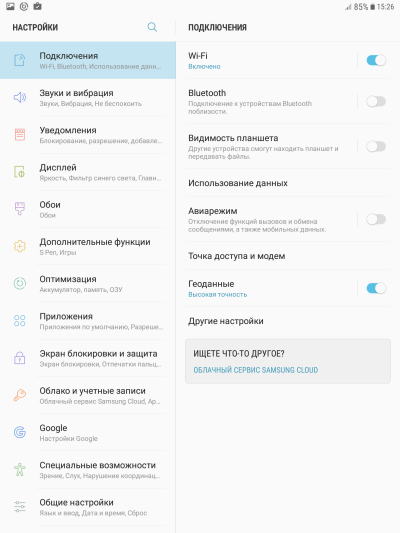 ui_08.png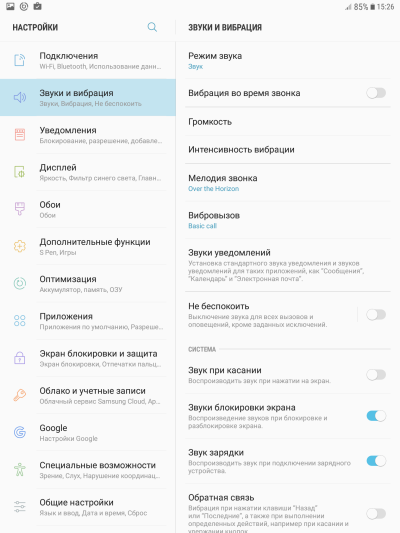 ui_09.png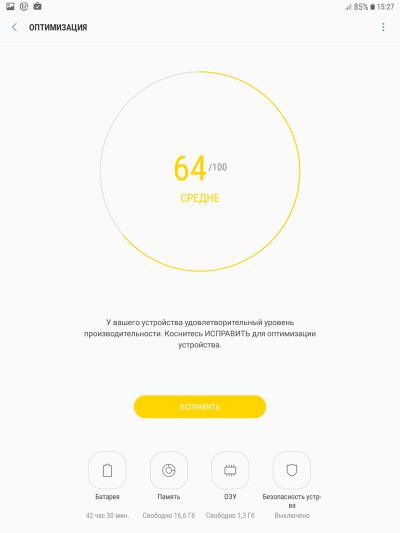 ui_10.png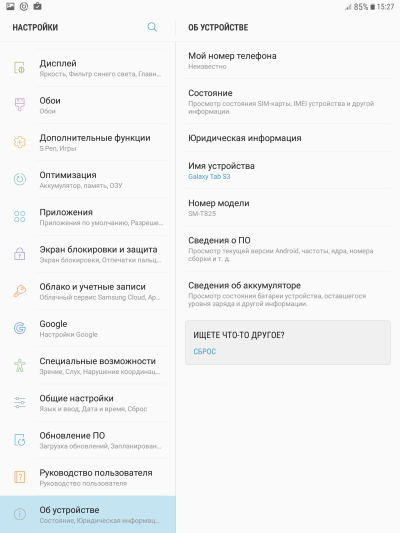 ui_11.png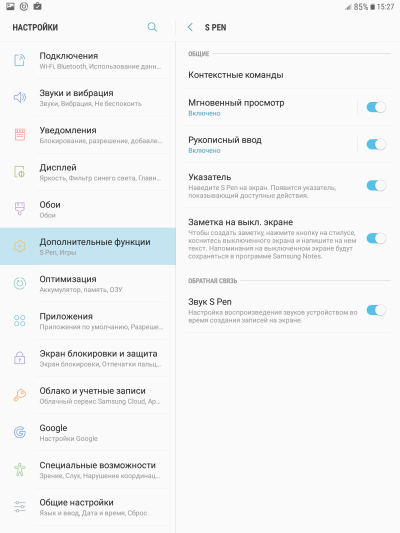 ui_12.png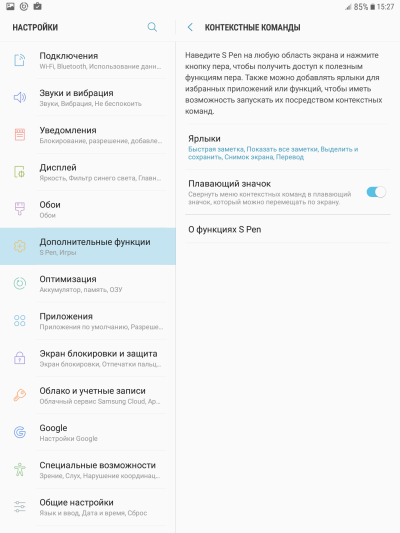 ui_13.png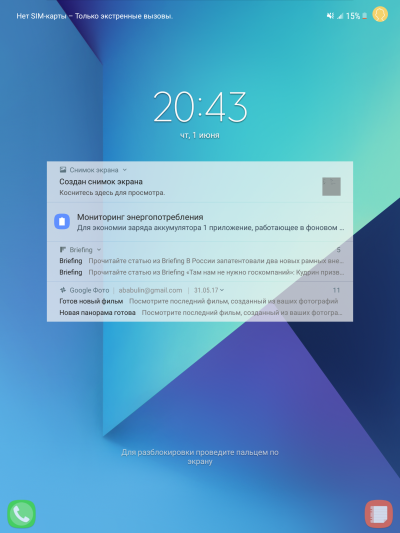 ui_14.png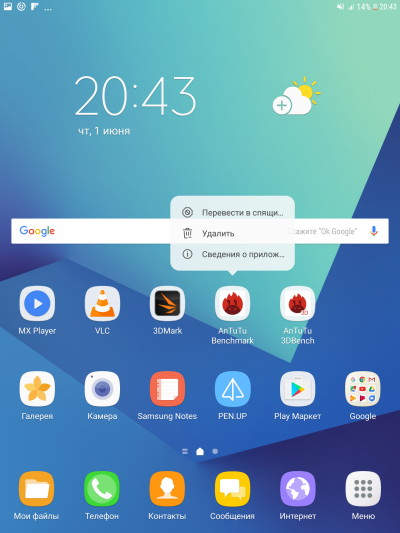 ui_15.png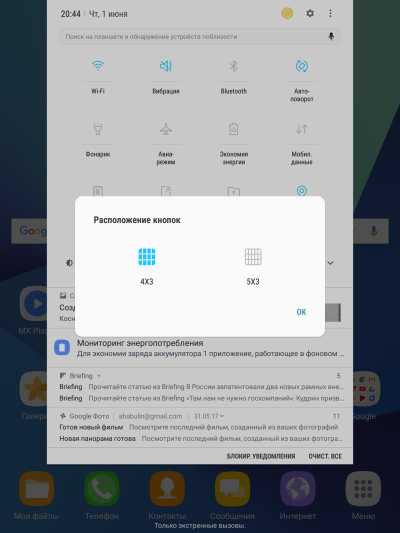 ui_16.png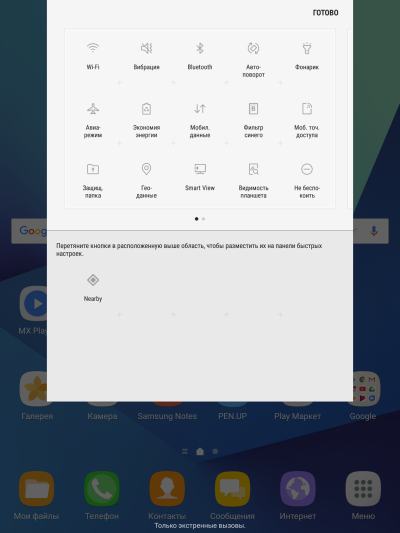 ui_17.png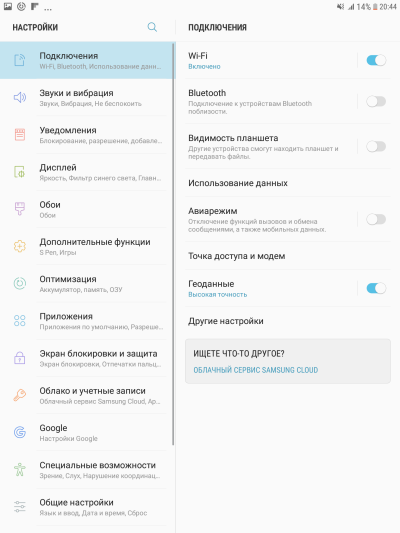 ui_18.png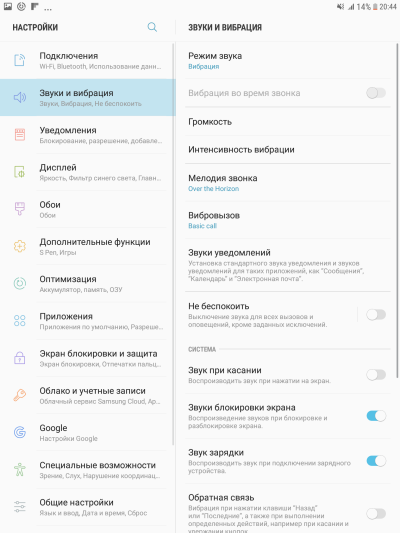 ui_19.png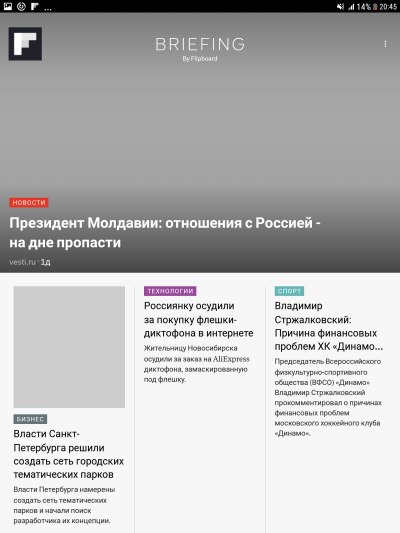 ui_20.png

ui_21.png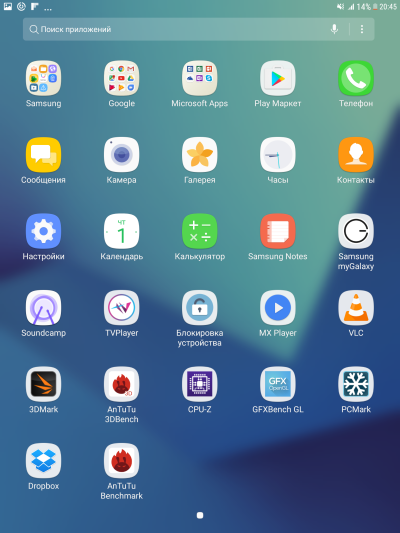 ui_22.png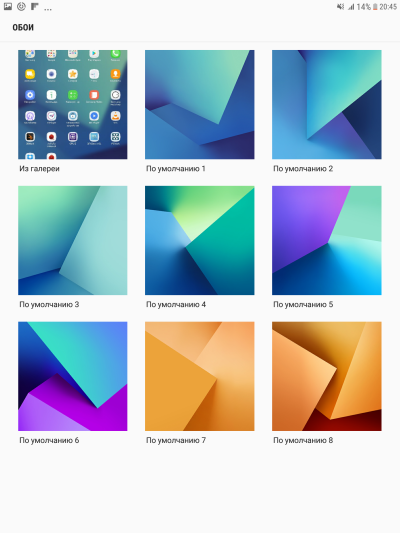 ui_23.png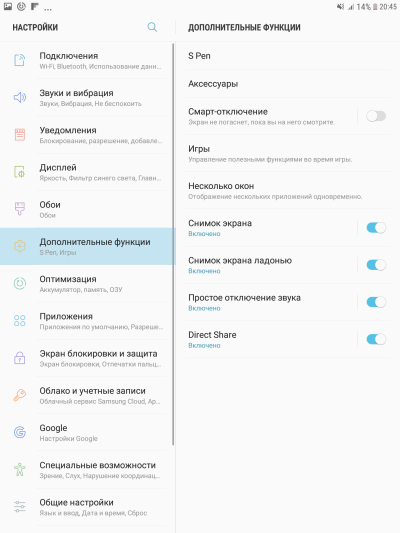 ui_24.png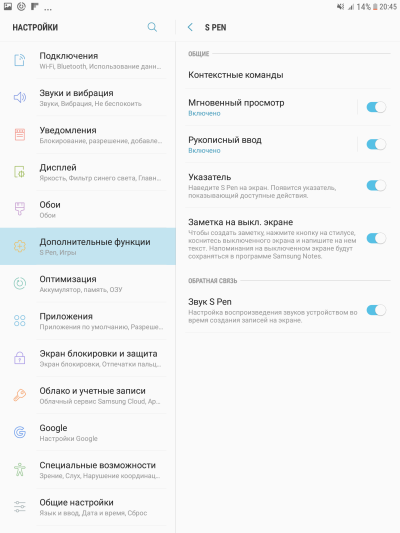 ui_25.png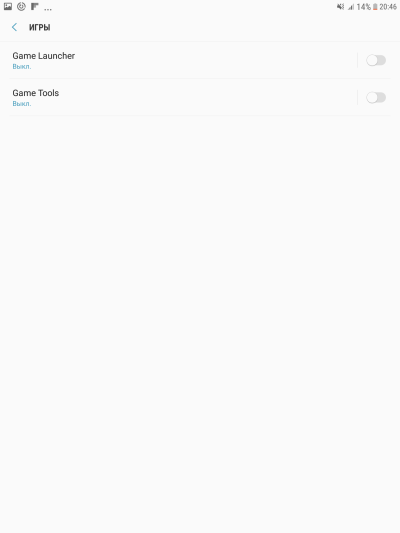 ui_26.png

ui_27.png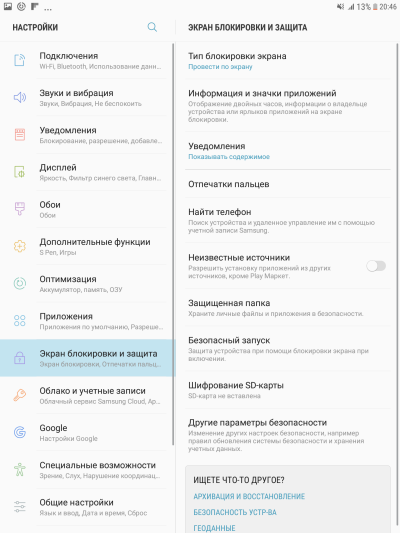 ui_28.png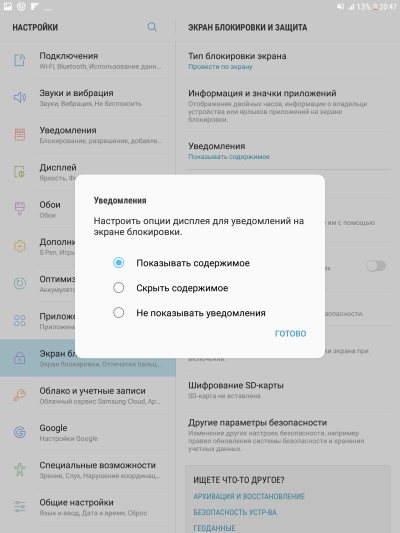 ui_29.png

ui_30.png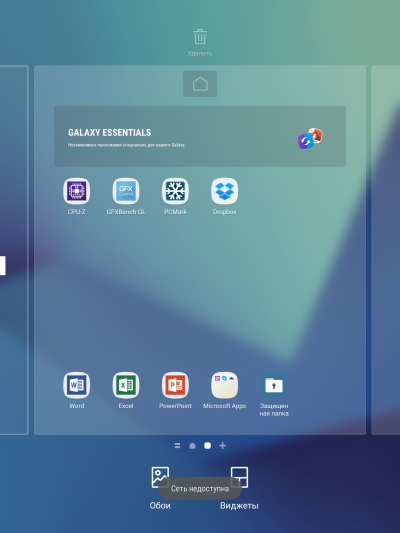 ui_31.png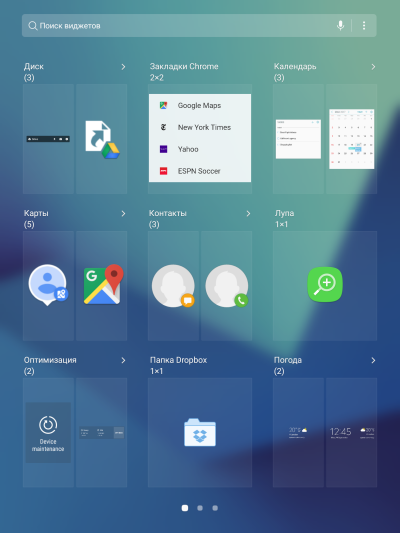 ui_32.png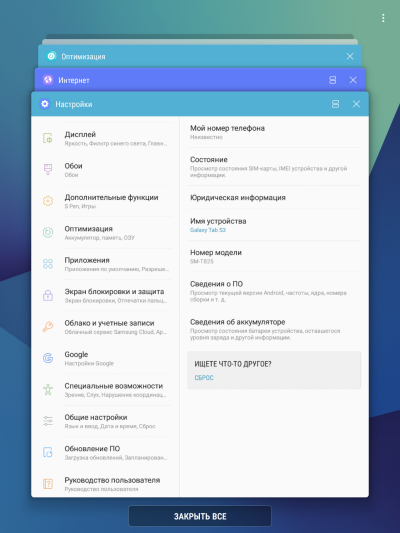 ui_33.png

ui_34.png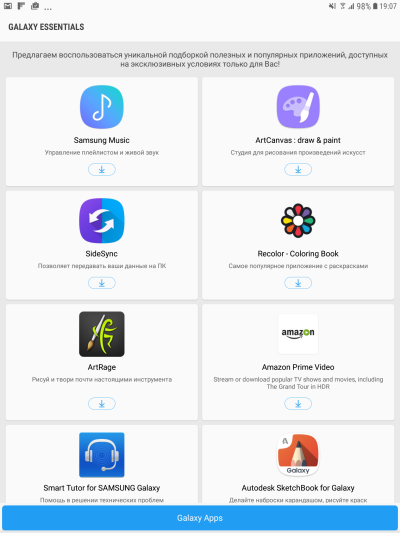 ui_35.png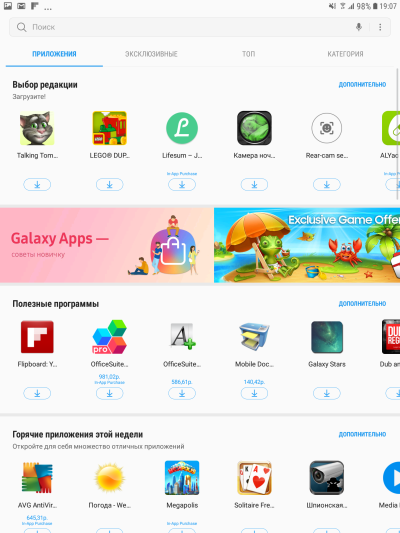 ui_36.png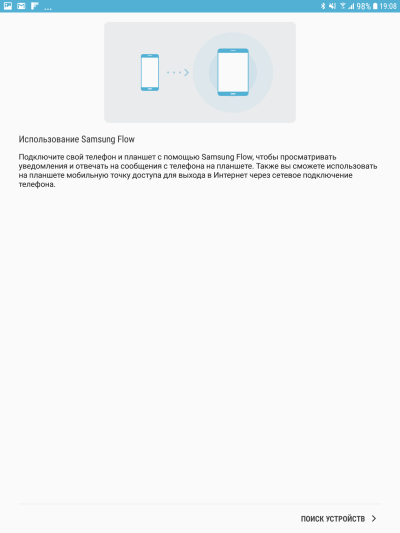 ui_37.png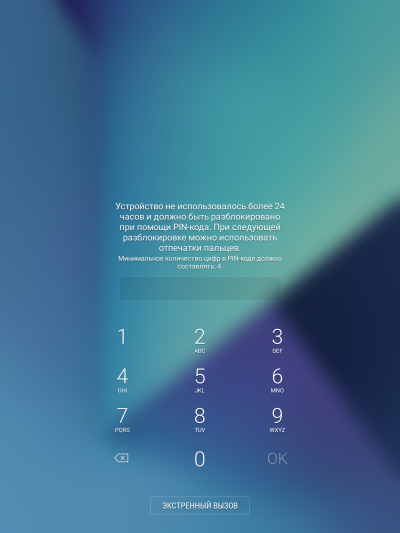 ui_38.png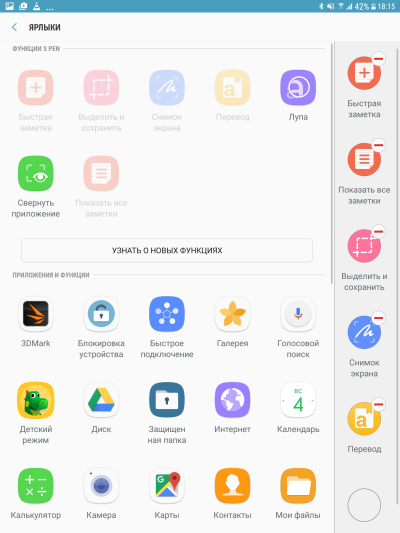 ui_39.png
See all
pictures (39)
Works Samsung Galaxy Tab S3 running Android Nougat 7.0 c installed on top of a proprietary shell from Samsung, which is no longer called TouchWiz and in General over recent years has become much "lighter", cleaner and clearer. I note the good adaptation of the shell under the large screen and its non-standard aspect ratio (4:3 instead of 16:9 or 2:1 in smartphones), neat icon, a separate screen under the news reports Briefing and a reasonable set of additional software. In addition to the Samsung branded apps (Flow to work together tablet and smartphone, kid mode, browser, calendar, notes and so on), there are a couple of optional programs (Soundcamp for the virtual playing musical instruments and TV Player for watching TV – and this is only a shortcut to install the app itself still need to download) and Microsoft Office tools is more than appropriate.
To present a shell Samsung claims excessive obsession seems to be nothing, but be glad of her quick work and overall consistency – it is possible.
Display and sound
Apple iPad has always been famous for its displays for superior detail, especially with the transition to retina standard, the perfect setting, all sorts of "gadgets" like TrueTone and NightShift. But Samsung have something to be proud of its object "ideal for designers" displays the copertina. The objection consists of six letters: AMOLED. Talk about some "not so" color or "wretched" Pentile it's time to leave in the past, modern displays organic led is simply better in all IPS. But to realize the advantage, we still have to configure the display of the tablet. And Samsung did it.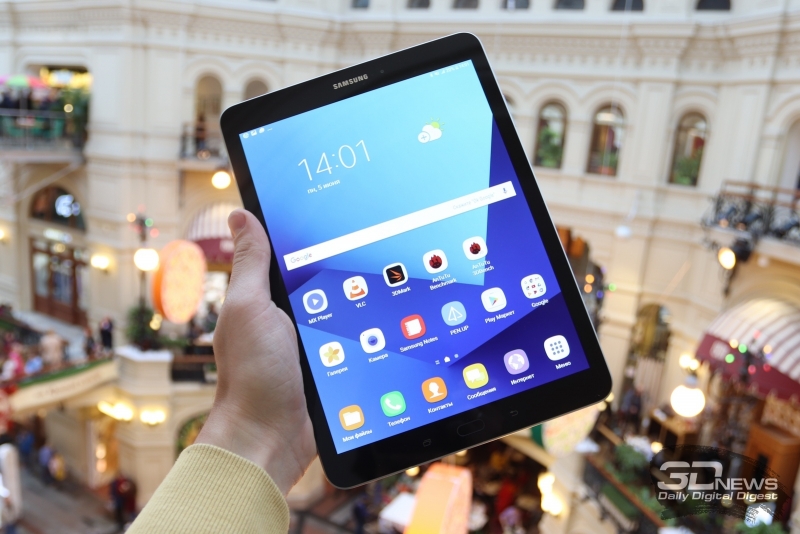 In Tab S3 uses a 9.7-inch matrix with a resolution of 2048 × 1536. The pixel density is 264 dots per inch — exactly the same performance as the iPad Pro has a 9.7. Pixels if you wish, you can see, but the desire for this to be really strong. This, of course, not 400-500 ppi as current smartphones, but for tablets – elite level. It is also noteworthy that the display allows you to display HDR content. When it will be in abundance – you can be happy, but for now it's just a line in a CV.
The contrast is almost endless. Black here, even in contrast scenes is really black, and not a substitute for a face of a set of shades of gray. Viewing angles are available – even if you look at the screen at a very acute angle, the contrast is not falling, but the colors are only slightly distorted.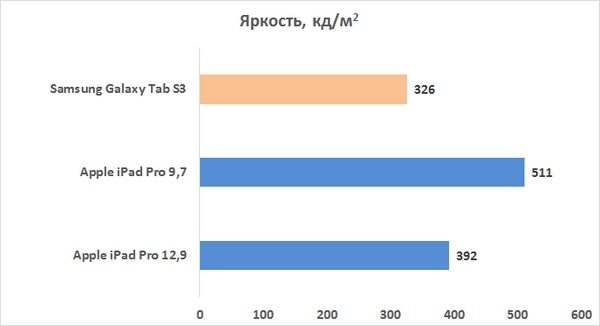 Brightness is not impressive in a purely digital equivalent – 326 CD/m2 vs 511 iPad pro has a 9.7. But in fact in bright light displays behave about the same – to work with both devices comfortably. The polarizing layer is in place, glare S3 screen Tab very sparingly.
Configured the display fine. However, to obtain this configuration, we strongly recommend to switch the mode from "adaptive", which is set by default in "basic". White at once seems a little more "yellowish" eyes – but this is because in "adaptive" mode is displayed in cooler colours than required. And for viewing movies, and photos or illustrations of greater compliance with the sRGB standards is a good thing.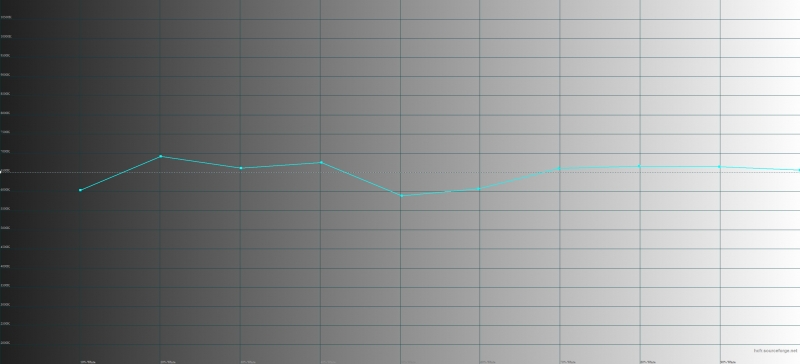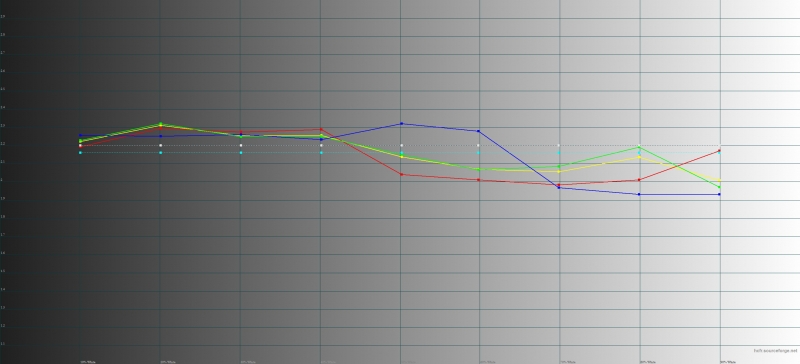 Here are the results of measurements in the "main" mode. The temperature of shades of gray around 6500 K is the "gold standard". Average gamma of shades of gray: 2,16, the gamma curves a little dancing, but not too critical.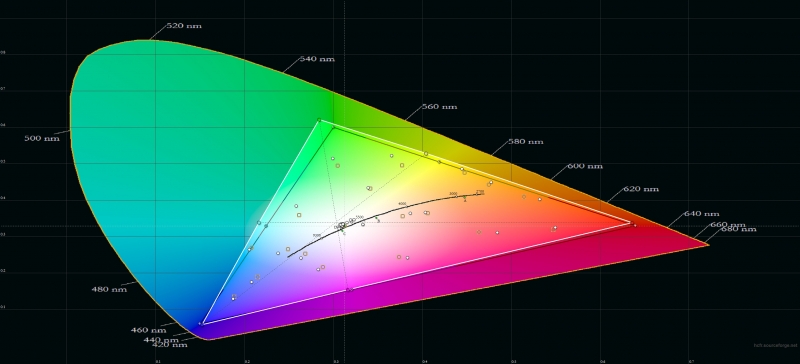 Color gamut higher than normal, but the colour accuracy is impressive. The average deviation of DeltaE Color Checker spectrum (grayscale + extended color gamut) is in the normal range: of 2.58, and going beyond the boundaries of "green" (reference) areas was only due to deviations in the "cold" gray. The situation is exactly as the iPad Pro has a 9.7 — only with an immeasurable advantage in contrast.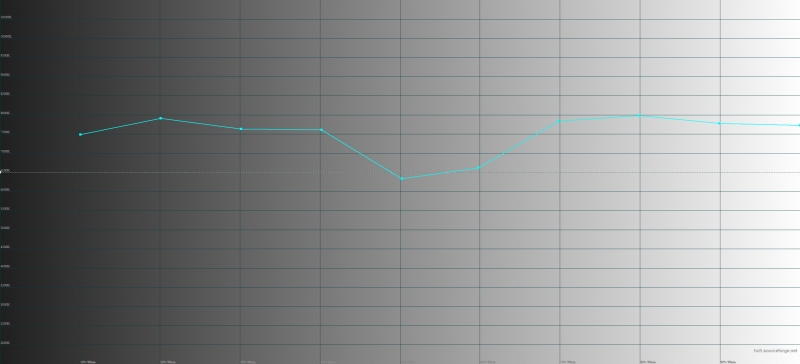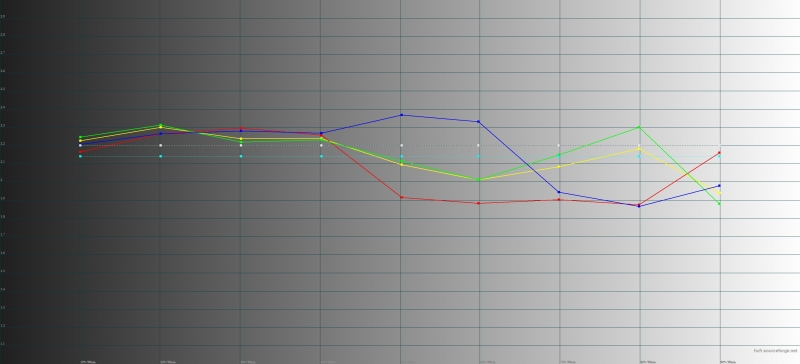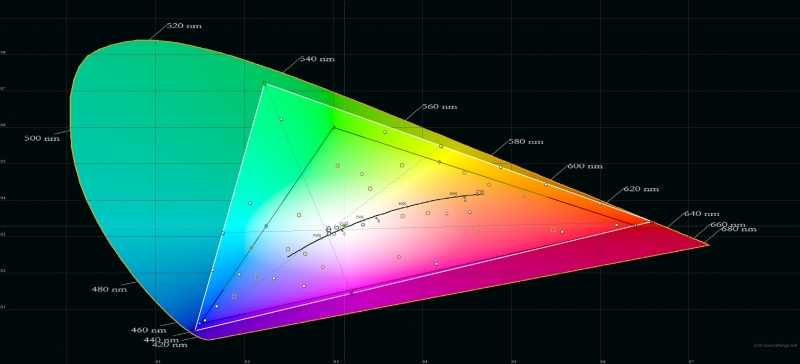 When you turn on "adaptive" mode the indicators are falling on all settings, graphics I described above.
As for sound, here Samsung Galaxy Tab S3 is quite good. He is not deprived mini-Jack, and the headphones sound is very decent: there is a large volume detailing normal, skewed in relation to any part of the sound spectrum there. For the movie – something that is necessary.
Especially Samsung boasts built-in speakers: there's four of them, authorship AKG (remember that the Koreans not so long ago bought Harman, which owns the brand AKG, and is now reaping the benefits). Sounds tablet up loud, to block the speakers with your finger in any grip there is even some sound stage for the speakers on the perimeter. But sound quality Tab S3 I wouldn't call is a very strong bias to upper case, lacking bass at maximum volume the tablet sounds harsh. However, to watch a movie together, it is quite possible – and even with some comfort. And what else is this gadget necessary?
Accessories (S Pen, the keyboard cover)
Samsung tried to make a knight's move, proposing to its tablet complete stylus S Pen – the same one that came with the Galaxy Note 7.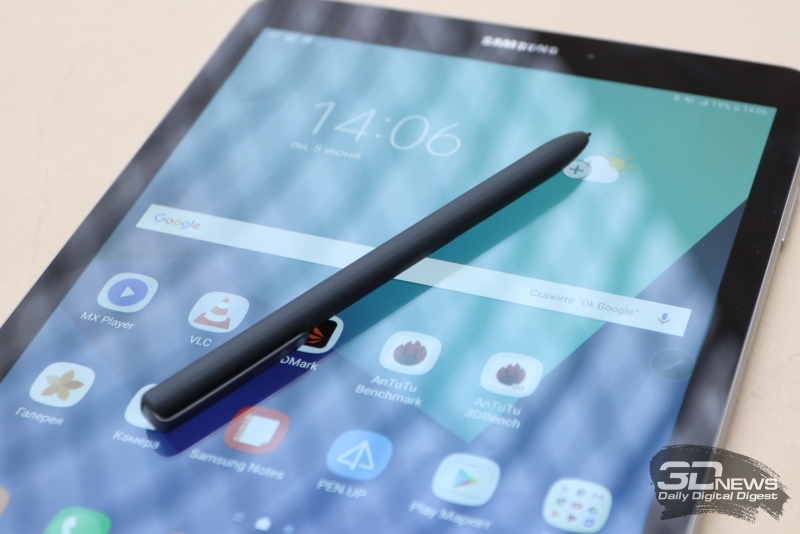 The thickness of the tip – 0.7 mm, are detected 4096 degrees of depression, and, most important, the stylus does not need to be charged. Only the lazy did not laugh at Apple Pencil sticking out of Lightning and threatening to break off and somnolent port at any careless movement.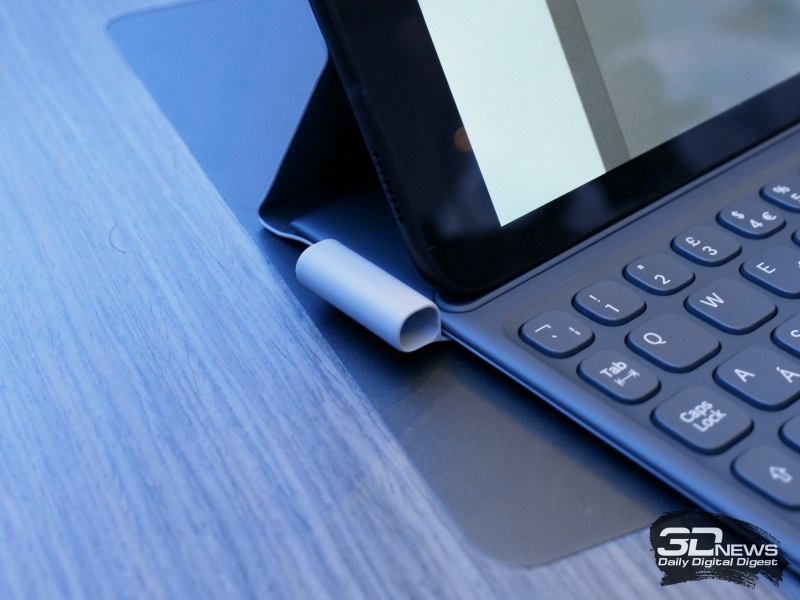 The problem is in the mounting of the stylus left and right here, it is necessary either to invent some clever ways, either to purchase the additional keyboard, which has the coveted ear. Yes, the Samsung keyboard is already not excessive and with complete feather bite (Oh yeah, Tab S3 more expensive iPad Pro 9.7 with the same amount of memory), keyboard, it and is raised to the heavens.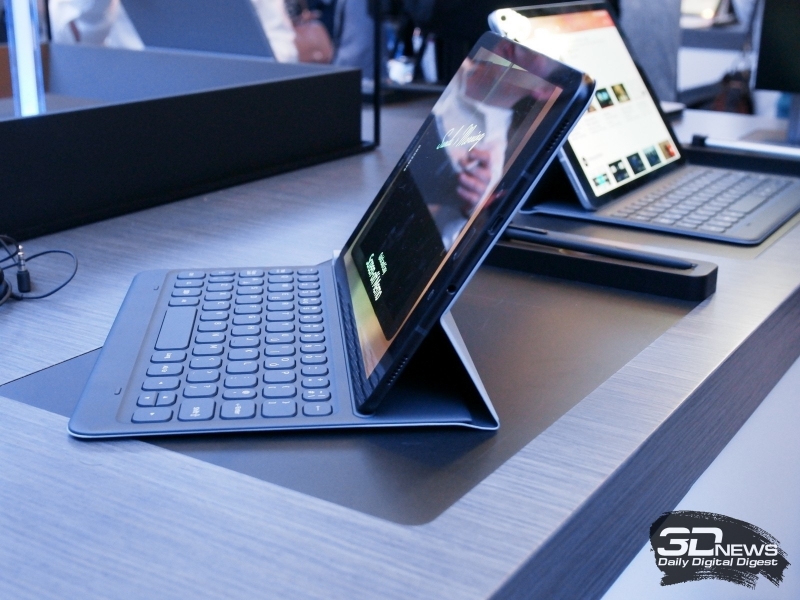 Including for this reason to try the keyboard during the test I failed. However, I have experience with it received during the MWC 2017, which Tab S3, in fact, was presented. It is soft, pleasant to the touch and giving feedback keyboard that connects to the tablet through a proprietary port POGO, and connects to it via Bluetooth. Notebook to provide comfort in combination with a tablet it is, nevertheless, not design unstable, tries to be filled up with any awkward movement. This is a good "crutch" if you need to print from time to time, but not as a working tool.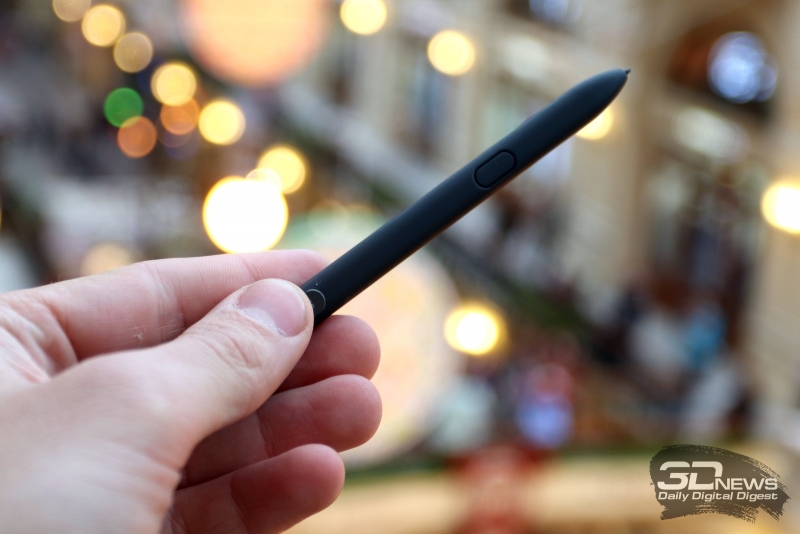 As for the experience with the S Pen, here Samsung quite competes with Apple's – feather, on my Amateur taste, at least no worse (and is better). To draw comfortable, although that iPad that Galaxy Tab S3 me fairly confused by the need to write on glossy slippery surface, not rough, as in the classic graphic tablets.
By default, the application is installed tablet PEN.UP – a kind of social network for artists/illustrators that use gadgets Samsung (primarily for them to register although there can be anyone). There are also familiar from the Galaxy Note series context menu that allows you to crop screenshots by hand, something to quickly record directly on the screen (or in a special notebook – your choice) or you can highlight words to translate; very convenient.
Source: 3dnews.ru