MWC 2018: a brief overview 8 Nokia Sirocco, Nokia 7 Plus, Nokia 6, Nokia 1 and Nokia 8110 4G
We live in exciting times, friends. In 2018, the smartphone with a large touch screen is less than easy push button phone with a proprietary operating system. In any case, this demonstrates the range of Nokia devices presented at the MWC 2018. Exactly a year ago, the company HMD "revived" classic 3310, which then caused us a lot of questions, and along with it, and showed some usable Android smartphones. This year HMD revives yet another classic phone – Nokia 8110 – totally inappropriate
for her yellow body. So, she asked for 79 euros, and next on the stand is a smartphone Nokia with Android 1 Go, which will cost 10 euros cheaper. While the choice between these two tubes is reduced to the well-known "axiom Escobar", the fact that "smart phone" is cheaper than "normal", amazing. And if you said this 10 years ago, you would never believe. But even I have to admit that all these attempts to revive the classics look about the same as with anything Soviet films like "the Caucasian captive". The idea is simple and straightforward intentions, like the good, but the output – a complete shame and a complete disappointment.
Nokia 8110 4G
Anyway, the HMD was pleased with the sales of the Nokia 3310, and in early 2018 released even an updated version with support for 4G. People gladly bought her for the role of the emergency phone or additional handsets to communicate locally while traveling, although occasionally complained about the build quality. The following experimental was the phone, lit up in the first "Matrix" – the Nokia 8110, which also supports work in networks of the fourth generation, but in General is the ordinary push-button telephone. And here we have seen some progress compared to the 3310 – plastic shell was better and more pleasant to the touch. However, the majority of booth at MWC 2018 HMD noted only a bright yellow color. In my opinion – nothing special, I'm still convinced that black 8110 will sell better.
 
As a hardware platform Qualcomm Snapdragon 205, but it's not the most interesting. It's much more interesting to look at what is stated in the role of the software platform – KaiOS. The presentation didn't say a word, but it turned out that this OS was created based on source code, now abandoned Firefox OS. At the moment the operating system is more like a proprietary platform built-in apps Facebook, Twitter and Google Maps (obviously, without that today, even the phone can not do), but Global HMD promises that will soon be its own app store and support third-party developers. Well, let's see.
 
KiaOS very undemanding to resources, all the applications for it are written in HTML5 and can start and can run even on very weak hardware. The other side of this "ease" – the minimum power consumption. So, for the Nokia 8110 claimed up to 25 days battery life in standby mode. In General, if this device can operate in access point mode Wi-Fi and to hold at least a day without recharging, I'm happy to buy it for personal use. In terms of iron 8110 is not so bad – it has 512 MB of RAM, 4 GB in built storage, screen size is 2.4 inches, resolution – 240 × 320 (QVGA), but the camera lacks autofocus and has a resolution of only 2 megapixels. However, if you view the pictures on your own phone screen, the quality won't scare you.
 
In General, if we consider this novelty as a cute and inexpensive push-button phone with a long battery life, it will look quite organically. But, for God's sake, don't think that it has something in common with the original model. The form may be similar, but the same feeling of use is not in sight. Nokia 8110 4G will go on sale in may 2018 and will cost exactly € 79. In other countries the price will be about the same, adjusted for local currency.
Nokia 1
"Not enough to push 8110 4G? Buy 1 Nokia on Android!" approximately so will sound the call of the seller-consultant in the near future. I'm sorry, but I'm still fun. "Unity" is the most affordable smartphone in the line of Nokia and one of the cheapest smartphones in General. It is clear that there is nothing extraordinary you will not be offered, but it is a smartphone with a full operating system and the ability to install apps from Google Play. At the time of the release of "unity" will be running Android 8.0 (Oreo Go), HMD Global promises prompt and regular updates in opposition to a similar price to Chinese competitors.
 
Inside stands the budgetary system-on-chip Mediatek MT6737M Quad-core CPU, clocked at 1.1 GHz and a graphics accelerator Mali-T720. There is 1 GB of RAM, 8 GB built-in storage device, the volume can be increased through microSD card. The screen has a standard aspect ratio – 16:9 – and a modest resolution of 480 × 854 pixels. Matrix, if you believe the published specifications, made by technology IPS, but through personal acquaintance the screen is highly disappointing. It's not even the low resolution, and that between the display and the outer glass there is a noticeable layer of air which makes the picture more faded. And this despite the fact that the matrix indices of brightness and contrast and so very humble. But let's not forget that Nokia 1 will cost just 69 euros.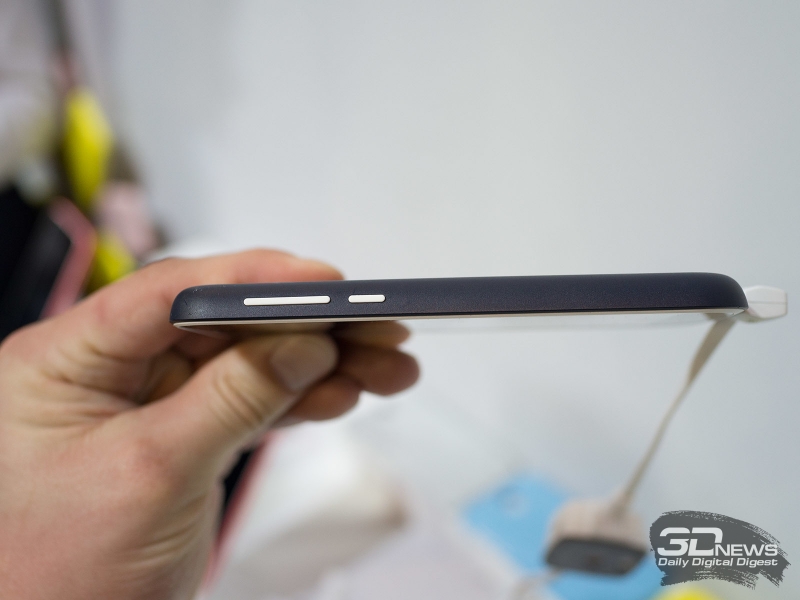 Both cameras are also extremely modest. The main has a resolution of 5 megapixels, front – 2 MP. In both cases, we have no auto-focus, stabilization and other pleasures of the XXI century. Video is written at a maximum resolution of 480p. Well, what though somehow to diversify the user experience, Nokia 1 made removable plastic back cover. So if you get bored, for example, black smartphone, its for very very little money can be made in yellow or pink. The panels are replaceable Xpress-on covers, as well as the good old Nokia at the time.
Nokia 1 will go on sale even earlier than 8110, in early April. Panels Xpress-on will be sold separately at a price of €6,5, and while they exist in four colors: sky blue, grey, yellow and pink. The palette will expand.
Nokia Sirocco 8
The word Sirocco familiar to any fan of Nokia was the title of one of the most beautiful modifications of the Nokia 8800. Now well-preserved tubes are roughly 500 to 1,000 dollars on eBay and the demand is consistently high. Well, Nokia Sirocco 8 shows how thoroughly and systematically the Global HMD is approaching the upper price segment. The new flagship does not cause any issues – it's extremely efficiently built, looks stylish and expensive, but still can not compete with iPhone X or Samsung Galaxy S9.
 
The smartphone can boast of a number of actual and fashionable chips – for example, a dual camera and an OLED display with slightly curved edges. However, it lacks something else as well. For example, a standard screen has an aspect ratio of 16:9 instead of 18:9. For me personally it changes nothing, however, this market trend and the consumer is spoiled with more love to give money for a smartphone with a more elongated screen. But most importantly, will not allow Nokia Sirocco 8 to compete with other flagships 2018 – obsolete hardware platform Snapdragon 835. It still provides high performance, cope with any games and it didn't fail, just a smartphone at last year's platform should cost less and perform in a different League. It turns out that the flagship 2018 on the basis Snapdragon processor 845 is about the same as Sirocco and Nokia 8, and last year a smartphone with comparable options would cost cheaper. It is unclear what may force you to choose 8 Nokia Sirocco is, except for nostalgic feelings to the Finnish brand.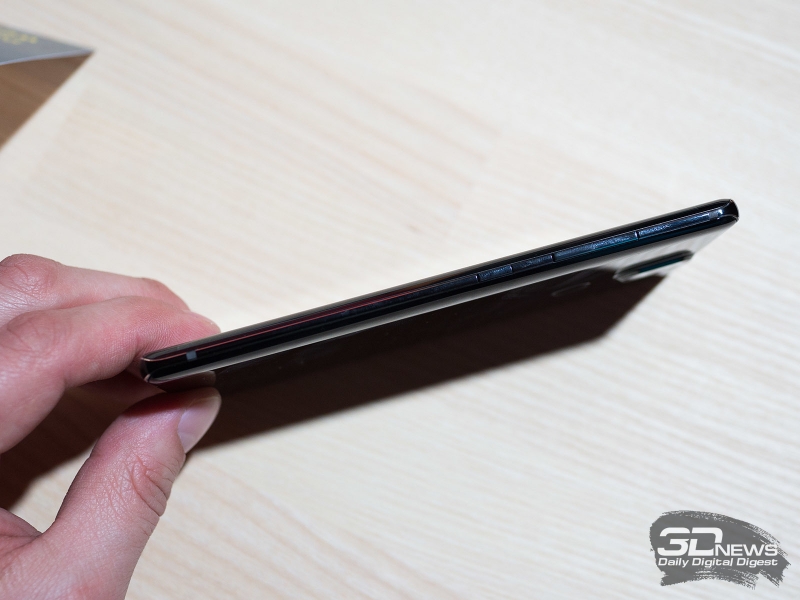 The screen size is 5.5 inches and a resolution of 2560 × 1440 pixels, visually the picture is very clear and rich, nothing to complain about. In standby mode the screen can display the time, notification icons and other things without any noticeable impact on battery life. The frame body is made of solid steel, and the front and rear panels are closed the tempered glass Gorilla glass of the fifth generation. RAM not regret it here as much as 6 GB, and built-in storage device will default to 128 Gbytes, and in the presence of the expansion slot. However, this slot uses the Bay for a second SIM card, so the increased volume of built-in storage Cabinet.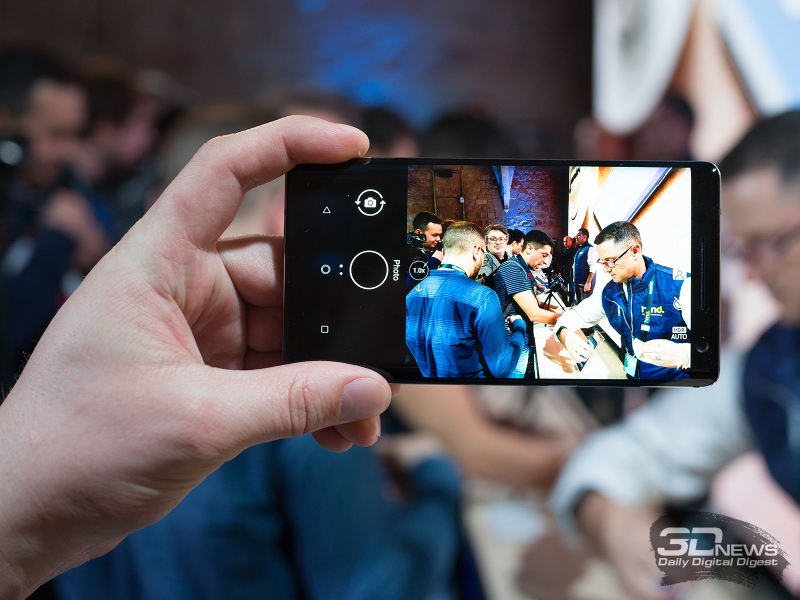 But the built-in camera can be very competitive. I mean dual main camera on the rear panel. The main module uses a 12-megapixel sensor and fast lens with an aperture of ƒ/1,75. Equivalent focal length is approximately 26 mm. the Second lens has a 13-megapixel sensor, and the lens has a long focal length (52mm equivalent) and a smaller aperture – ƒ/2.4 GHz. Switching between cameras ensures a two-fold optical zoom, exactly the same as the iPhone, Galaxy Note8 and other smartphones with dual cameras. The picture quality is quite high — at least what I could see on the screen after the official presentation, looked pretty good.
Well, it remains to add that the battery capacity of the Nokia Sirocco 8 is 3260 mAh, supported wireless charging Qi, and that the smartphone will be sold in April 2018 at a price of 749 euros. The Russian price will be announced separately, but it is clear that Sirocco will cost more than the original Nokia 8, for which today asking for an average of 24 000 rubles.
Nokia 7 Plus
Go to my chief favourite among the new HMD Global – Nokia 7 Plus. This model can be perceived simultaneously as an improved version of the original Nokia 7, as a more affordable alternative to the Nokia Sirocco 8. Although I am sure that in HMD Global positioning see a little differently. It's an average smartphone with a large and high quality screen, good built-in camera, capacious battery and the hardware platform of the middle class – Qualcomm Snapdragon 660.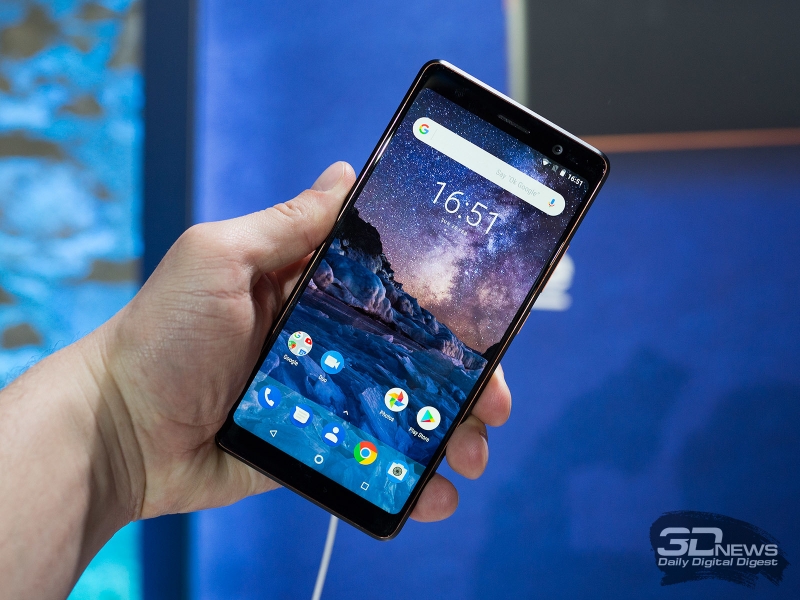 And here the manufacturer is not ashamed to use a screen with aspect ratio of 18:9 and resolution Full HD+ 2160 × 1080 pixels. The diagonal is exactly 6 inches, but the ratio of the area of the screen to the area of the front surface is difficult to call a record, it is of 77.2%. However, the side frames are practically no – the width of a smartphone remains comfortable for such diagonal. Yes, the screen uses IPS-matrix, for which the stated elegant performance of brightness – 500 nits – contrast ratio – 1500:1. And we'll check whether this is the actual values in the preparation of this review.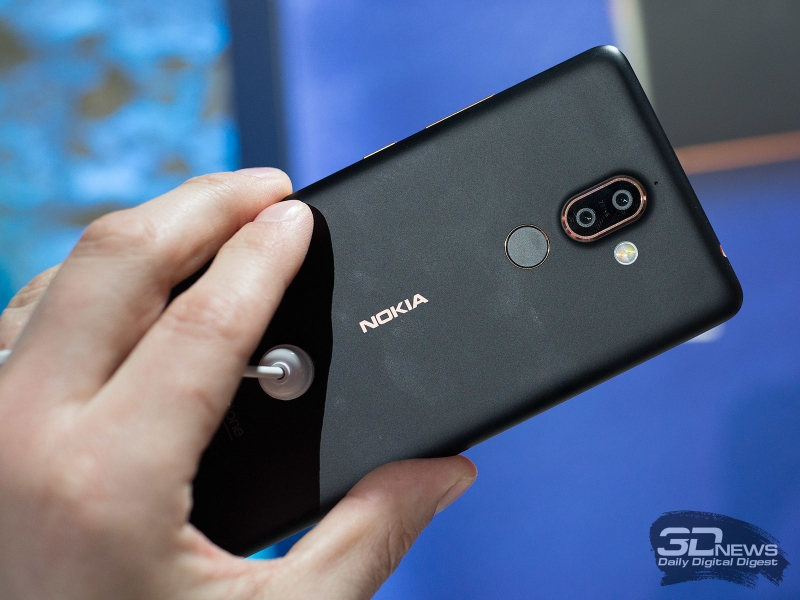 660 th Snapdragon Nokia 7 Plus uses eight CPU cores Kryo 260, of which four operate at a frequency of 2.2 GHz and other four at 1.8 GHz. The amount of RAM is less than in the flagship, to 4 GB, and a constant memory is exactly 64 GB. However, the expansion slot will not go away – it is possible to set the card up to 256 GB, if we abandon the second SIM card. But here a serious battery – 3800 mAh, so in theory 7 Plus will become the most "tenacious" Nokia smartphone in 2018.
Housing Nokia 7 Plus is made from a solid bar of aluminium, and the rear panel has a special six-layer ceramic coating, this creates a more complex color that changes slightly in different light. However, I don't think anyone really will be able to distinguish the ceramic coating from the glass. So HDM could so not to bother.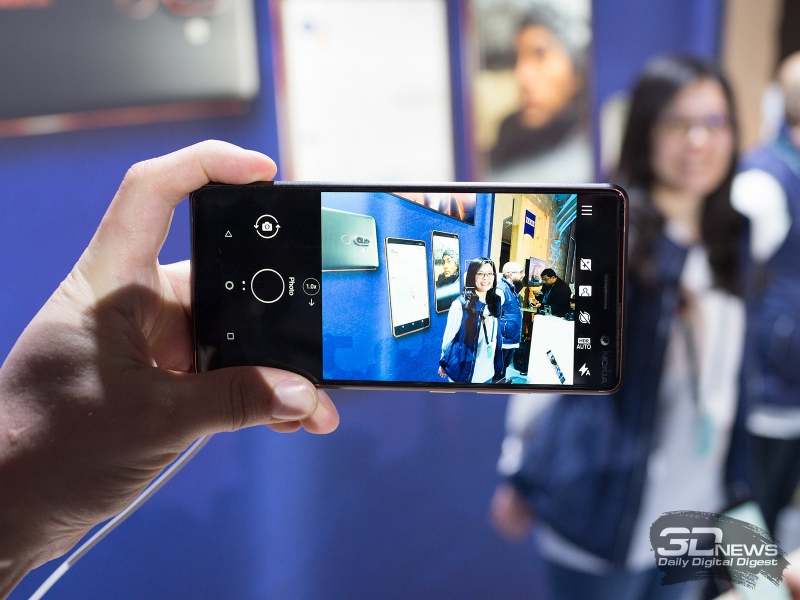 The main camera Nokia 7 Plus fully complies with the dual module of 8 Nokia Sirocco. They have similar technical characteristics and the photo quality similar to Zeiss, but the front camera is different – here we have a 16-megapixel sensor and wide-angle optics with an aperture of ƒ/2.0. It is interesting to note the Pro Camera app that allows you to manually change exposure, sensitivity, white balance and other settings. Exactly the same will be preinstalled on Nokia Sirocco 8.
In General, Nokia 7 Plus we'll be waiting with undisguised impatience. This smartphone looks like a great balance between price and capabilities, plus it will come under the Android One and will offer crystal clear 8.0 Android without annoying the original shell. Sales will start in April 2018 at a price of 399 euros.
Nokia 6
And the latest Global HMD – updated Nokia 6, which was presented a year ago at MWC 2017. She immediately attracts the attention of a little rough housing from a single piece of aluminum. Before such execution could only afford flagships like the HTC One, and now metal can be and a smartphone in the price range of up to 300 euros. Such progress I definitely like it – so, you see, and a $ 100 pipe will be aluminum.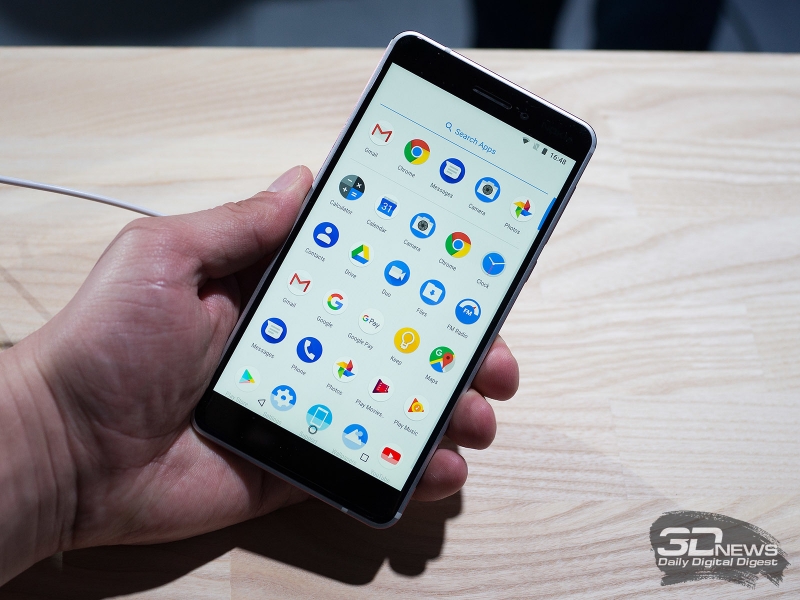 But do not be deceived – looks Nokia 6 looks interesting, and inside this smartphone is quite ordinary. It uses Qualcomm Snapdragon processor 630 as a hardware base. The Central processor uses eight cores Cortex-A53, clocked at 2.2 GHz, the graphics is Adreno 508, and the amount of RAM and permanent memory will be different. Basic modification Nokia 6 will get 3 GB of RAM and 32 GB for data storage, and more feature-rich – 4 and 64 Gbytes, respectively. However, Russia is likely to be available, only one of them. It's not even clear what it is. The screen uses IPS-matrix with a diagonal of 5.5 inches and a resolution of 1080 × 1920 pixels, which is under the tempered glass Gorilla Glass 3. By the way, it is good practice to put in the budget model Gorilla Glass earlier generations is nameless unhardened glass.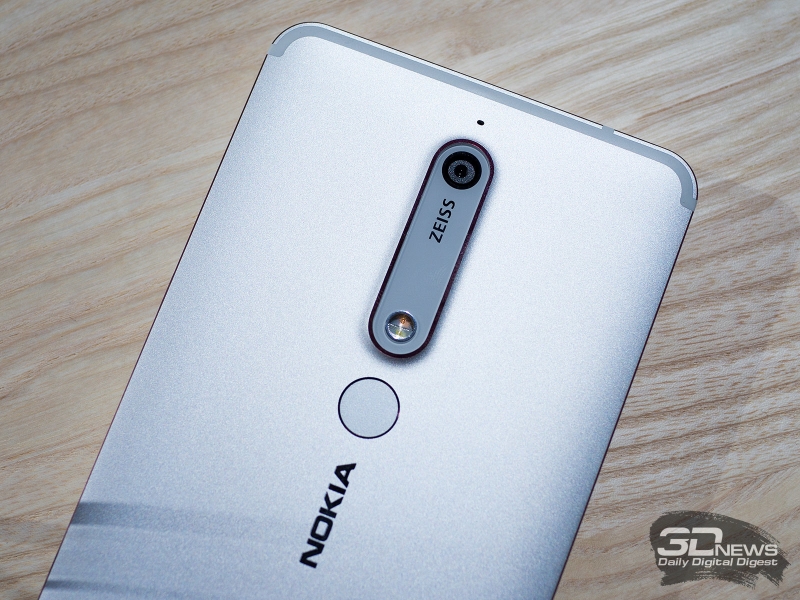 Single main camera uses a 16 megapixel sensor (likely Sony) and wide-angle optics with an equivalent focal length of 25 mm and aperture of ƒ/2.0. Autofocus works in the phase regime, there is a mode HDR, face detection and video recording in Full HD. The front camera has half the resolution of 8 MP, but it also works with autofocus and records video in 1080p.
Battery average capacity – 3000 mAh, HMD, however, says that it was enough for two full-day battery life. Well, if you're not, you can always count on fast charging: 50% of the charge level of the smartphone has exactly half an hour. And the appropriate adapter included in the package by default. It remains to add that the updated Nokia 6 will go on sale in April and will be available in black, white and blue building at the price of 279 euros.
Source: 3dnews.ru